The Scotch Whisky industry is incredibly important to Scotland.
There are 133 Scotch Whisky distilleries in Scotland, with regulations dictating that the spirit must be allowed to mature in oak casks for a minimum of three years. The Scotch Whisky Association reports that 1.3 billion bottles of Scotch Whisky were exported in 2019 (42 bottles per second) with a total value of £4.9 billion.
This investing in whisky guide will solely focus on the Scotch Whisky market, though it is also possible to invest in whisky produced in other regions such as American Whisky or Irish Whisky.
Introduction to Scotch Whisky
What is Scotch Whisky
Scotch Whisky is a premium alcohol beverage produced exclusively in Scotland.
There are five types of Scotch whisky:
Single Malt – Made from malted barley, water and yeast at one distillery.
Single Grain – Made from grain other than barley such as corn, wheat or rye, at one distillery.
Blended Malt – A blend of multiple Single Malt Scotch Whiskies.
Blended Grain – A blend of multiple Single Grain Scotch Whiskies.
Blended – A blend of both malt and grain whiskies.
How Scotch Whisky is made
Single Malt Scotch Whisky is made using just three ingredients – malted barley, yeast and water.
First the barley is malted by being soaked in water. Then it is spread out to help it sprout and germinate. The sprouted barley is then dried in a kiln using hot air or peat smoke. Once dry, the barley gets milled and mixed with hot water in a mash tun (a vessel which mashes the malted barley) to create wort (term used to define the liquid extracted from the mashing process) which is then transferred to a washback (a larger container made of wood or stainless steel which allows the wort to ferment), together with yeast. This process converts the wort into alcohol.
At this point, the alcohol is poured into large copper pot stills to be distilled. The alcohol is heated until it boils and its vapour is condensed into a liquid and carried through coiled pipes into cooling vats. This process continues until the alcohol reaches approximately 70% alcohol content.
Once distilling is complete, the new spirit is poured into bourbon or sherry oak casks for a minimum of three years before it can be deemed 'Scotch Whisky'.
The process for producing Single Grain Scotch Whisky is very similar. However, the grains used can either be malted or unmalted. Further, single grain whiskies are distilled using column stills rather than traditional copper pot stills.
Scotch Whisky regions
Scotland is divided into five Scotch Whisky producing regions: Campbeltown, Islay, Lowland, Highland and Speyside.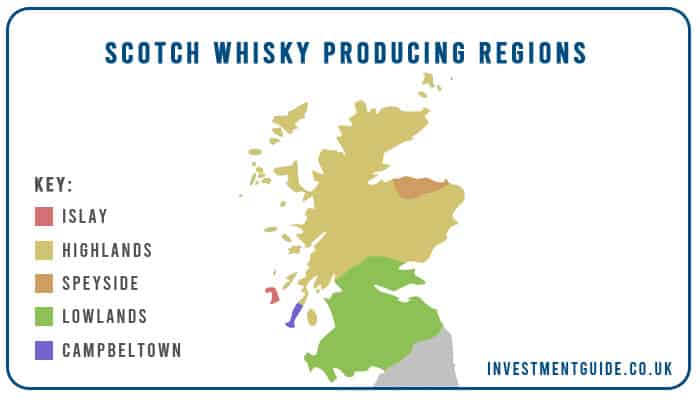 Whilst it is possible to paint each region with a broad brush in terms of the flavour characteristics they are best known for, regional characteristics are not as defined as in the wine market.
The final characteristics of a particular Scotch Whisky are more influenced by the equipment and methodology used in production.
Scotch Whisky export market
The largest export destinations for Scotch Whisky in 2019 were:
| Country | £m | % of total |
| --- | --- | --- |
| USA | 1,069 | 21.8% |
| France | 432 | 8.8% |
| Singapore | 300 | 6.1% |
| Taiwan | 205 | 4.2% |
| Germany | 184 | 3.7% |
| Spain | 180 | 3.7% |
| India | 166 | 3.4% |
| Japan | 147 | 3.0% |
| Latvia | 142 | 2.9% |
| Mexico | 121 | 2.5% |
| Other | 1,964 | 40.0% |
The vast majority of exported Scotch Whisky is Blended Scotch Whisky (64% in terms of both value and volume). Single Malt Scotch Whisky represented just 10% by bottle volume, but 30% in terms of total value.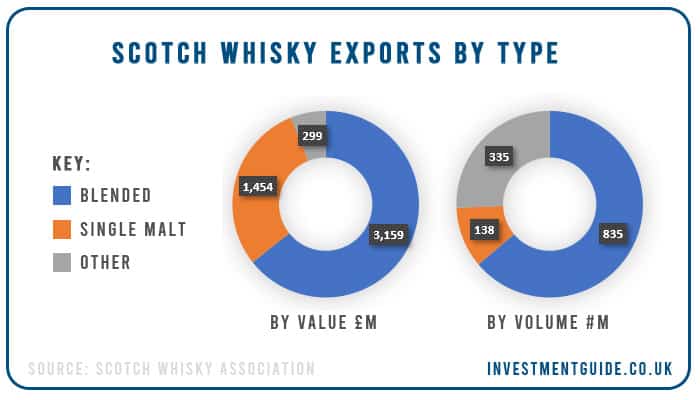 Factors impacting value
Not all Scotch Whiskies are appropriate for investment. When investing in individual bottles of Scotch Whisky, experts typically advise to target bottles which are in limited supply but in high demand.
There are several factors to consider in valuing a specific Scotch Whisky:
Distillery – The distillery a bottle comes from makes an enormous difference to the value of the Scotch Whisky as certain distilleries are very popular with buyers. For example, Macallan is a distillery often in high demand.
Age – The price of whisky tends to rise with age. The longer a particular whisky is stored in a cask, the less that is ultimately available for bottling. This is because a small proportion of liquid evaporates each year, known as the 'Angels share'.
Edition – The first bottle in any series will often attract a premium.
Original Bottling – For example, original bottling means that the producing distillery bottles the whisky themselves, rather than using an independent bottling company. Supporters of original bottling argue that it increases quality as only the owner of the distillery can taste the casks before bottling. This can sometimes lead to increased pricing.
Single cask bottling – Single cask bottlings are generally more sought after due to being more unique. Look out for bottles which are individually numbered (e.g. XX/200).
Limited releases – As with any other market, a reduced supply of a specific product will drive up prices provided there is sufficient demand.
Distillery only bottles – Where bottles are released to the market as distillery only bottles, they often attract higher prices on resale because not everyone is able to visit the distillery to acquire the bottle.
Critic reviews – Strong critic reviews can increase demand which often results in increased pricing.
Time – As time passes, more bottles from a particular release will be consumed. This reduction in supply can often increase the price of the remaining bottles on the market.
Special bottles – For example, special edition 'decanter' bottles can often attract higher prices.
Label, packaging and level – Damage to the label or packaging can have a negative impact on the value of the bottle. Similarly, a whisky level below the neck of the bottle can have a negative impact on value. This is because it suggests that some alcohol may have evaporated which would damage the flavour of the whisky.
Consumer demand – Over time, consumer preferences change. Demand patterns arsing from consumer preference can certainly impact Scotch Whisky prices.
Whisky prices
Scotch Whisky valuation
When trying to determine the value of a particular Scotch Whisky, it is important to both (i) look at historical auction sale prices / current retail list prices to get an idea of price and demand, and (ii) consider whether the condition of the bottle may impact value (i.e. fill level, original box, any damage to labels, condition of closure). If a similar bottle has not previously sold on the market, you may need to speak with a whisky valuation expert to get an estimation of value.
The websites listed below can be used to find either historical auction prices or current retail list prices:
Rare Whisky 101
When you initially sign up for a Rare Whisky 101 account, you are given 2 free credits. There are two types of valuation available – a basic valuation which costs 1 credit or an advanced valuation which costs 2 credits.
Once you have used your initial free credits, more credits can be purchased for between £1.68 and £2.40 a credit, depending on the volume purchased.
A basic valuation outlines the most recent recorded sale price and the date of that sale, whereas an advanced valuation shows a lot more detail such as:
Total number of sales
Average sale value
Max value, min value and most recent sales value along with respective dates of sale
Annual bottle sales during last 5 years (both volume and value)
% value change over the last 1, 2, 3, 4 and 5 years
Complete sales history chart
The data used by Rare Whisky 101 is sourced from UK auction data.
Whisky Stats
Whisky Stats tracks the prices of Single Malt Scotch Whisky from three online auction platforms. Access to the searchable Whisky Stats database is free and users can perform 10 evaluations using the 'Whisky Pricing Machine' (which outputs a simple price estimate with no further detail) each month. To gain access to further features, the site offers a membership which costs 49 Euro per quarter. All prices are shown in Euro, unless you have a membership in which case you can opt to show prices in Pound Sterling.
Whisky Base
Whisky Base is an online marketplace where users can buy/sell whisky. By logging which Scotch Whisky bottles you have in your collection, the platform will show you the price that others currently have those bottles listed at. If using this platform, bear in mind that the prices shown may not be an accurate reflection of actual sale prices because whilst the whisky may be for sale at that price, it may not have previously sold at that price.
Scotch Whisky price index
The main price index tracking Scotch Whisky is provided by Rare Whisky 101, a whisky bottle/barrel brokerage and valuation firm. The 'Apex 1000 index' is the broadest whisky price index, which tracks the best performing 1000 bottles of Rare Whisky.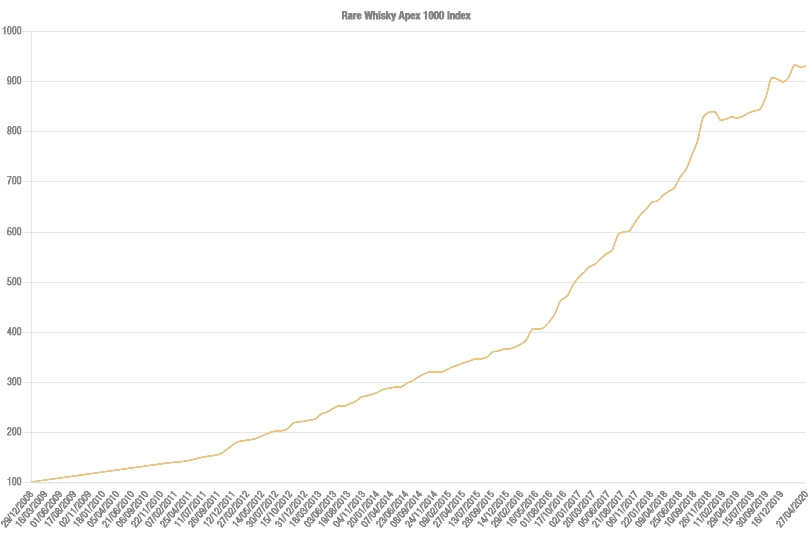 Other price indices are available, tracking the top 100 or 250 best performing bottles, single grain bottles, vintage bottles, as well as distillery specific indices.
How to invest in Scotch Whisky
There are multiple ways you can gain exposure to the Scotch Whisky market:
Invest in Scotch Whisky bottles
Scotch Whisky marketplaces
Whisky Base
The Whisky Base platform enables users to buy and sell whisky with others around the world. Whisky Base charges no fees for buying, and 8.0% fees for selling whisky. The platform enables you to keep track of your Scotch Whisky collection and view current prices for similar bottles available.
The Whisky Exchange
The Whisky Exchange is the largest online whisky retailer in the UK, stocking nearly 3,500 whiskies. Remember that if acquiring a bottle which is easily available from a retail shop, it would likely sell for less at auction. Retail price is not the same as open market price.
Buy direct from distilleries
Many distilleries offer distillery only bottling (i.e. bottles you can only buy if you visit the distillery in person). As these bottles can only be bought in person, they are often desirable purchases for those who cannot easily get to visit the distillery in person.
Scotch Whisky at auction
There are multiple auction platforms which either focus exclusively on Scotch Whisky or have specialist Whisky auctions from time to time. Examples include:
As always, ensure that you have a highest price in mind when bidding at auction to ensure you don't get carried away.
Buy shares in major whisky producers
An alternative to directly investing in Scotch Whisky is to invest in the companies who own the Scotch Whisky producers. By acquiring shares in these companies, you can potentially drive profits through both dividend payments and capital appreciation, rather than relying solely on capital growth.
Four companies (Diageo, Pernod Ricard, William Grant and Sons and Bacardi) dominate the Scotch Whisky market, producing 72% of Scotch Whisky sales by volume (Source: Whisky Invest Direct).
Whilst William Grant and Sons and Bacardi are both family owned, Diageo and Pernod Ricard are publicly listed firms. Whilst both firms are also heavily involved in the production of other alcoholic beverages, owning shares in these companies is one way to get exposure to the whisky market.
| Company | Stock exchange | Ticker symbol |
| --- | --- | --- |
| Diageo | London | DGE |
| Pernod Ricard | Euronext | RI |
You can invest in both companies using the services of an execution-only platform such as Hargreaves Lansdown (to see a comparison of investment platforms, click here).
Investing in Whisky Casks
Whisky Invest Direct
Whisky Invest Direct gives private investors the opportunity to invest in wholesale maturing whisky. All whisky purchased is stored in a bonded warehouse. Whilst the majority of investors choose to keep it stored in the bonded warehouse, the option to take physical ownership does exist subject to holding the appropriate approvals.
Both malt and grain Scotch Whiskies are available on the platform, with maturing whisky available from 23 different malt distilleries and 4 grain distilleries.
Finding a buyer for a bottle of whisky can be tricky without incurring high selling costs through an auction platform or selling at a lower price via a reseller.
Whisky Invest Direct enables investors to sell their whisky to other investors via a live order board, which can be a significantly easier way of disposing of your investment provided demand exists on the platform (at the time of writing, there was demand from both buyers/sellers on the vast majority of whiskies).
Price charts show how the price of specific whiskies of different ages have varied over time. The typical trend is that Scotch Whisky prices rise as time passes as the whisky is closer to maturity/bottling. An example price chart for a 2014 Scotch Whisky is shown below, with a gradual increase over five years except a reduction in value as a result of Coronavirus crisis: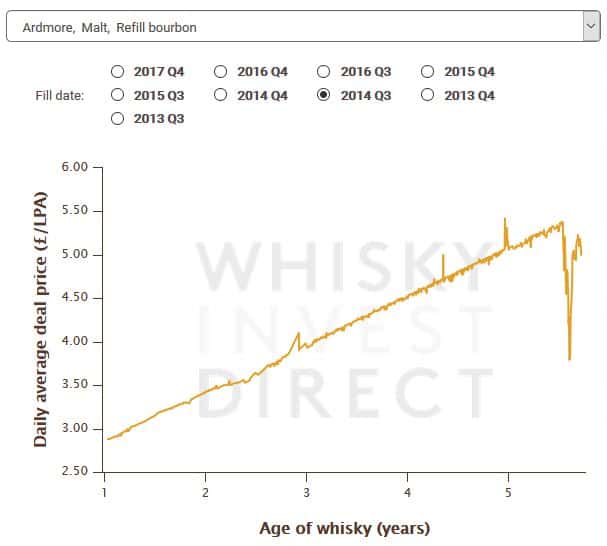 In terms of charges, you incur a 1.75% dealing commission each time you trade on the platform. Further, a storage fee of £0.15 per year per Litre of Pure Alcohol (LPA) is charged, subject to a monthly minimum of £3.