Loanpad is a relatively new P2P lending platform, having launched in 2019. However, at the time of writing, it has now attracted over £8.2 million of investor funds. Loanpad is rather unique in the UK P2P market, as it offers investors the opportunity to take a position in the lower risk portion of secured bridging/development loans. This is possible because Loanpad sources all of its loans via an established lending partner that is willing to accept higher risk in return for higher reward. In this Loanpad review, we aim to provide an honest assessment of the risks associated with lending alongside a worked example of how lending with Loanpad actually works.
Loanpad is currently offering a tiered cashback deal, with new investors offered £50 or £150 depending on their initial investment level (see detail below).
Loanpad – worked example
First let's consider a normal development loan of £1 million, with a 12 month term, £1.5 million security value and 10.0% interest rate. This loan would provide a lender ROCE of 10.0% (£100,000 interest per annum).
In the case of Loanpad, the £1 million loan would be split into two tranches – a senior tranche (which has priority of repayment) and a junior tranche. As an example, the Senior Tranche could total £750,000 and pay 7.0% interest (£52,500 per annum), whereas the Junior Tranche could total £250,000 and pay 19.0% interest (£47,500 per annum).
The borrower would pay the same interest in both scenarios (£100,000) and therefore this loan structure would make no difference to their decision making process. However, this structure provides distinct benefits to both the Senior Tranche and Junior Tranche holders.
The Senior Tranche holders (i.e. Loanpad investors) benefit from reduced risk (risk of loss given default is significantly reduced/sheltered by the Junior Tranche), whilst the Junior Tranche (i.e. the lending partner) benefits from increased return on capital and increased funding capacity.
Loanpad solely offers loans of this type, with a maximum of 50.0% of the total property value being offered by Loanpad.
What are the investment options with Loanpad?
If you go on the Loanpad website, you will see that they offer two accounts – 'Classic' and 'Premium'. The sole difference between these accounts is the applicable notice period.
The classic account provides daily access (in normal market conditions) whereas the premium account requires 60 days notice. Loanpad was been lauded recently for consistently maintaining liquidity throughout the Coronavirus crisis when other P2P businesses struggled.
The premium account pays a higher rate of interest in exchange for this longer notice period (5.0% vs. 4.0% in the classic account).
How transparent is Loanpad about its underlying loans?
Loanpad is very transparent about the underlying loans in its portfolio. You can actually log in and download a full list of all current loans and the proportion of those loans you hold with your investment.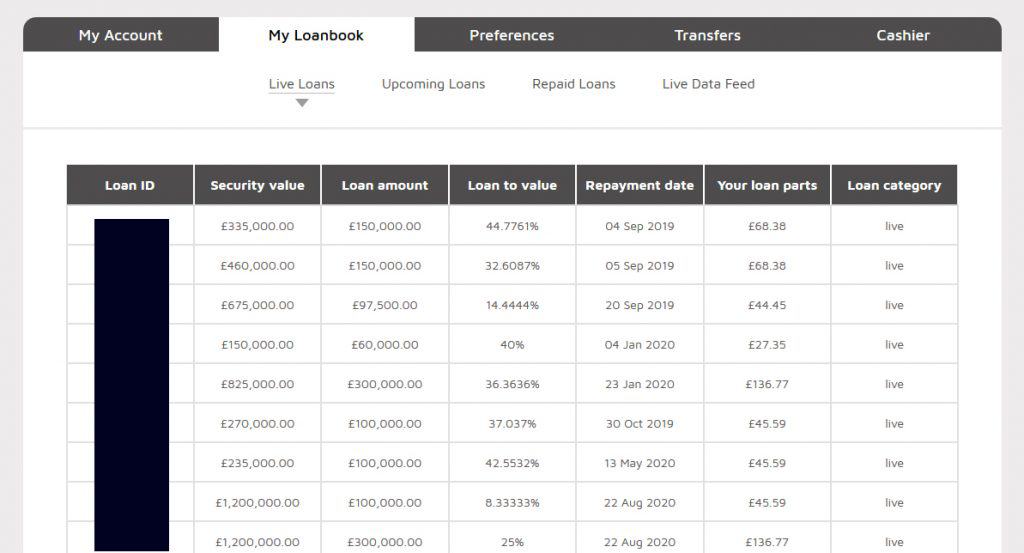 How frequently is interest paid?
Loanpad pays daily interest, though the interest cannot be automatically reinvested until the cash balance hits the £10 minimum limit.
The underlying loans are relatively short-term, spanning between 3 and 18 months. Cash can typically be withdrawn daily (Classic) or with 60 days notice (Premium). However, if liquidity on the platform was poor (e.g. if strange market conditions led to lots of investors withdrawing cash), then you may have to wait for the underlying loans to repay to gain access to your cash.
Are Loanpad investments protected?
Loanpad is FCA authorised, but investments are not covered by the FSCS protection scheme which applies to cash held in banks, building societies and credit unions only. All of the underlying loans are senior debt, secured against underlying property. However, you must regard this as an investment with higher risk than holding cash in a bank account, but also higher potential returns.
Further, despite the fact that Loanpad has maintained good liquidity to date, immediate access to your investment cannot be guaranteed in all circumstances. The underlying loan terms are typically 6-18 months and developers often need to extend their bridging/development loans due to unforeseen circumstances such as project delays.
Does Loanpad offer an IFISA account?
Yes, both the 'Classic' and 'Premium' accounts are available via an IFISA account (tax-free wrapper).
Does Loanpad have a new customer offer?
Yes, if you invest £1,000, Loanpad will give £50 (5.0%) cashback. If you invest £10,000, Loanpad will give you £150 (1.5%) cashback. Both offers are available via this link.
| Investment level | Cashback offer | Cashback percentage |
| --- | --- | --- |
| £1,000 | £50 | 5.0% |
| £10,000 | £150 | 1.5% |